Barnegat Bay Environmental Educators Roundtable
Each year, teachers, environmental educators and nature enthusiasts from around the watershed (and around the state!) look forward to the Barnegat Bay Environmental Educators Roundtable. The Ocean County Soil Conservation District has been effectively coordinating and implementing this professional development event since 1997. It is specifically designed for educators to enhance their knowledge of local natural resources, culture and history, and gain valuable tools that support environmental topics in the classroom, through participation in hands-on, experiential workshops and field trips. The Roundtable helps promote a commitment to environmental stewardship in educators and the students they teach.
This Professional Development program is Ocean County Soil Conservation District's annual signature event. The Open House hosts nearly two dozen exhibitors, and dinner and desert are served to our hungry guests. Each year offers a different theme that guides the focus of our workshops and field trips. Our Keynote Speaker concludes the evening with an inspirational presentation, followed by Door Prizes.
The Roundtable has a proven success rate with Ocean County educators. The educational programs and opportunities available from all participating agencies, organizations and groups allows a comprehensive approach to watershed education and provides educators with a "one-stop-shop" approach. It is well known that educators are more likely to present and teach topics with which they are familiar and comfortable. The main goal and objective of the annual Barnegat Bay Environmental Educators Roundtable is to provide this opportunity for teachers and to spur action to improve and protect the health of the Barnegat Bay watershed.
We hope you will join us next year for indoor and outdoor educational fun. Please scroll below and visit our pages from past year's Roundtables for lesson plans, resources and to see the photo galleries. In addition, please peruse our Lesson Plans & Resources for Educators webpage to find pertinent teaching and learning material for your classroom or outdoor learning experiences.
Terry O'Leary and McDuffy Barrow, of the Forest Resource Education Center, teach a group of educators about bees at the 2010 Environmental Educators Roundtable.
"Excellent workshops! I will use the lessons in my own class and will share with other teachers in my school. Thank you!!" ~Anne B. Stafford Intermediate School
Explore Our Past Environmental Educators Roundtables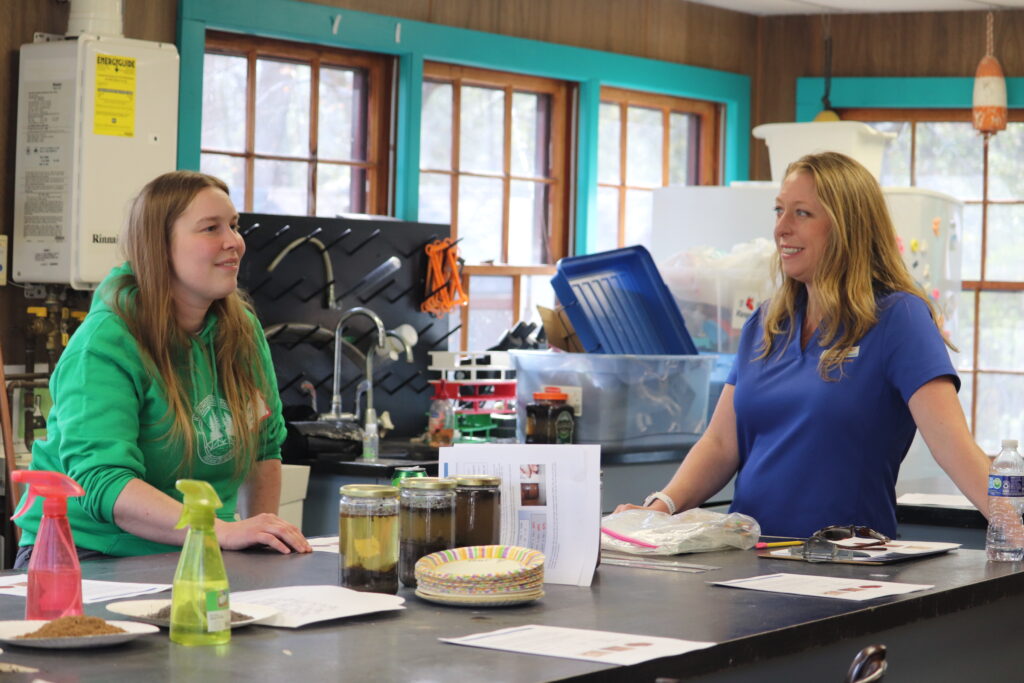 Data – Calculating the Importance of Nature was the theme for OCSCD's 26th Annual Barnegat…