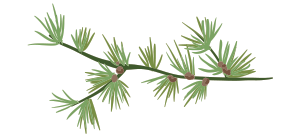 Who is the Ocean County Soil Conservation District and what do we do?
A soil erosion control permit is one of the many permits required by New Jersey laws in order to build and develop in the state. This permit is issued by one of the State's 14 soil conservation districts, whose job it is to implement the NJ Soil Erosion and Sediment Control Act which governs certain aspects of new development.
Districts are special purpose subdivisions of the New Jersey Department of Agriculture. They are not county government agencies, although their jurisdiction follows county boundaries. They are semi-autonomous political bodies which are locally governed which play a very unique role in the protection of New Jersey's natural resources.
On one hand, they serve the agricultural community through a variety of programs aimed at supporting agricultural industries in the state. Districts develop conservation plans for farmland and provide general assistance to farmers dealing with a variety of technical and business issues. On the other hand, districts serve a regulatory role by implementing the State's erosion control laws on construction and development sites.
Soil Conservation Districts Regulate by Enforcing Standards
In this capacity, districts regulate certain construction activities by reviewing and certifying plans for soil erosion control which are designed based on a set of best management practices, known as Standards. Districts conduct inspections of construction sites and have a variety of regulatory and enforcement powers to ensure that construction sites are maintained in compliance with the certified erosion control plan. Districts also conduct inspections of individual homes within a development to ensure that the lots have been properly prepared for establishing new lawns. Conservation districts serve another unique role in the implementation of New Jersey's Non Point Source Pollution Control on construction sites.
Soil conservation districts also conduct many education programs, and many districts employ "education coordinators" who conduct programs for schools and civic groups. Districts sponsor poster contests and assist the State Soil Conservation Committee in the annual Envirothon.
Erosion & Sediment Control News & Announcements
Kean University students enrolled in Principles of Environmental Soil Science participated in a guided field…
Within the legislative findings of Chapter 251 is this statement:
"The Legislature finds that sediment is a source of pollution and that soil erosion continues to be a serious problem throughout the State.
Rapid shifts in land use, from agricultural and rural to non-agricultural and urbanizing uses, construction of housing, industrial and commercial developments, and other land disturbing activities have accelerated the process of soil erosion and sediment deposition resulting in pollution of the waters of the State and damage to domestic, agricultural, industrial, recreational, fish and wildlife, and other resource uses.
It is, therefore, declared to be the policy of the State to strengthen and extend the present erosion and sediment control activities and programs of this State for both rural and urban lands.
To establish and implement, through the State Soil Conservation Committee and the Soil Conservation Districts, in cooperation with the counties, the municipalities and the Department of Environmental Protection, a Statewide comprehensive and coordinated erosion and sediment control program to reduce the danger from storm water runoff, to retard non-point pollution from sediment and to conserve and protect the land, water, air and other environmental resources of the State."
In as much as the land disturbance activities outlined in the legislative findings are one of the primary causes of soil erosion and sedimentation, the Ocean County Soil Conservation District maintains a staff of erosion control and conservation specialists whose primary responsibilities are the review of erosion control plans submitted by applicants, and the performance of on-site inspections to insure that approved erosion control practices are followed.
In the course of those inspections, OCSCD staff are on the site of single and multi-family unit subdivisions, commercial and industrial sites, roads, utilities, public construction, mining, quarrying, landfills, land grading, and bulkheading sites.
OCSCD staff are also available to engineers and developers in Ocean County for consultation and guidance in following the mandates of the New Jersey State Standards for Soil Erosion and Sediment Control.
Contact our office with questions or for guidance from OCSCD staff.