Celebrating Earth Day at our 23rd Annual Barnegat Bay Environmental Educators Roundtable
2020 Premier ONLINE Event!

Read our newsletter featuring the 2020 Environmental Educator's Round Table.
Use these links to jump further down the page to various lessons and presentations from this event:
This year's event is dedicated to one very special lady, Ms. Lois M. Schoeck.
REST IN PEACE, LOIS. YOU ARE VERY MISSED!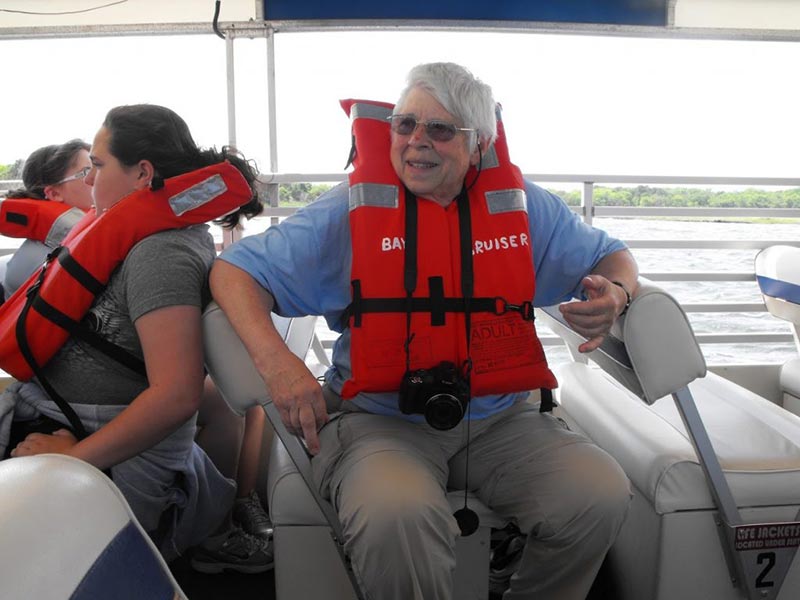 Lois has been an integral part of the Barnegat Bay Environmental Educators Roundtable since 1997 when it began. She has been a driving force in the Ocean County environmental education community for over four decades. She steadfastly and selflessly inspired literally thousands upon thousands of students, hundreds of educators, and multiple generations of environmental stewards and "crusaders."
Lois provided the "no-nonsense" voice of reason when asked her opinion and always gave a true, straightforward response. Her legacy will live on as memories of Lois continue to inspire Ocean County's environmental community. The Ocean County Soil Conservation District proudly (and sadly) dedicates this year's "virtual" Roundtable in her honor. Thank you Lois!
~Christine Raabe, District Director
Lois's colleagues – Kathy Palagonia, Joyce Meilner and Betty Pennell share this touching tribute: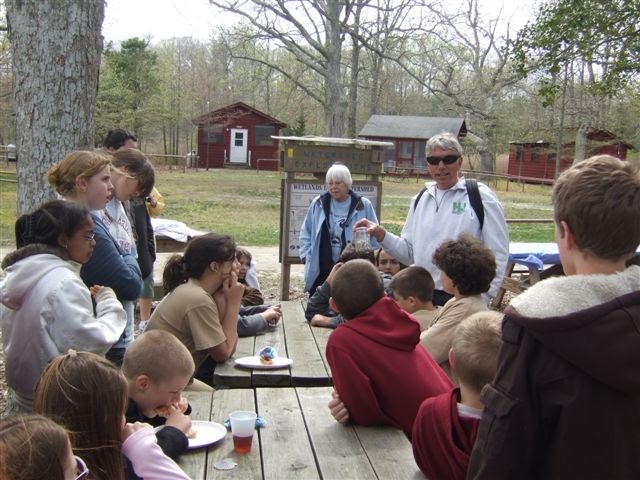 For 22 years, Lois attended every single Barnegat Bay Environmental Educator's Roundtable! To Lois, this was a reunion of friends, naturalists and fellow educators. At the Roundtable she was able to share her passion for the outdoors, where she was truly "at home". She drew her inspiration from nature, sought to learn all she could about it, and passed along her knowledge to our youth. She leaves a lasting legacy!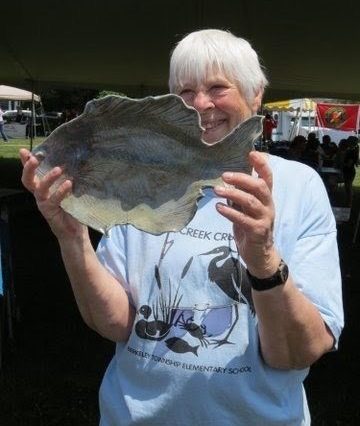 Lois was an avid teacher and environmental educator for over thirty-four years. One of her earliest teaching positions was at the Conservation and Environmental Studies Center in Whitesbog. She retired from the Berkeley Township School District in 2006. In addition to teaching fifth grade, she was the Stokes Coordinator for the H&M Potter Elementary School and their 1991-92 "Teacher of the Year".
As an outstanding educator, Lois was a member of the Zeta Chapter of Delta Kappa Gamma. She was past president of the NJ Environmental Educators Association, chairperson of the NJEA Environmental Education Committee and chairperson of the Cattus Island Advisory Council.
Upon retirement, Lois became the co-founder and Advisor to the Potter Creek Crusaders (PCC), an after-school group of 6th graders at Berkeley Township Elementary School, dedicated to protecting their local environment. She shared her knowledge of the environment and her photographic skills with students and colleagues, resulting in several publications of their work. In 2012, Lois accepted the Barnegat Bay Partnership's "Community Caretakers" award on behalf of PCC.
May the Forest be with you Lois.
---
2020 Happy Earth Day for the Next Generation – Full STEAM Ahead
The goal of the Roundtable is to provide educators with ideas and lesson plans that offer meaningful ways to instill a sense of place in their students, and build upon existing curricula by making it locally relevant. Our 23rd annual Roundtable was scheduled for April 22 – Earth Day. This year, as we maintain social distancing standards, we were not be gathering together at the Lighthouse Center for Natural Resource Education. Instead, Ocean County Soil Conservation District, with the help of our talented partners, put together a suite of engaging online programs that include lessons, activities, videos, podcasts and webinars.
Thank you for proudly wearing your Earth Day T-shirt for this special occasion! Scroll below for links to our programs and lessons.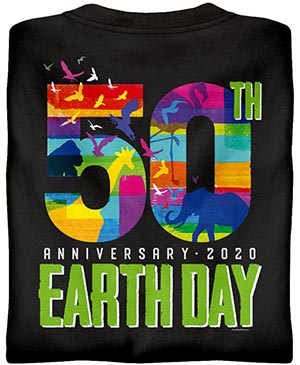 Watch this Pollinator Webinar presented by Kelly Gill
Kelly Gill, Xerces Society for Invertebrate Conservation
On April 22 at 3:00pm a live-streamed webinar was hosted with Senior Pollinator Conservation Specialist, Kelly Gill of the Xerces Society for Invertebrate Conservation.
Kelly Gill, Senior Pollinator Conservation Specialist with Xerces Society for Invertebrate Conservation, offered this wonderful program about "Pollinators". Kelly showcased pollinators, discussed the importance of these small but mighty creatures, and shared ways that you and your students can create a garden to attract and support them.
Discover the many educational opportunities that await you and your students!
The Lighthouse Center for Natural Resource Education has been the location of the Roundtable for over a decade. First, we will set the stage and offer you a glimpse of the beauty and nostalgia download a powerpoint slideshow of the Lighthouse Center, located within the beautiful salt marsh of the Barnegat Bay, surrounded by field and forest.
To HEAR the presentation that goes with the slideshow posted here, please download this audio-enhanced PowerPoint (please be patient wile this large file downloads), created and narrated by Pola Galie, Operations Manager of the Lighthouse Center for Natural Resource Education.
This year's programs and lessons are centered around the theme "Happy Earth Day for the Next Generation – Full STEAM Ahead", in celebration of Earth Day's 50th Anniversary. Earth Day is about celebrating Earth – our home – the planet that gives over 7 billion people and 8.7 million other species "life"! Programs are designed to include engaging, hands-on STEAM-based (Science, Technology, Engineering, Art, Math) activities, and many are aligned with the Next Generation Science Standards.
The programs are meant to inspire stewardship and embrace the ideology – that each of us can make a difference in the health of our planet and the education of our children. All programs are free, and everyone is welcome to engage in these online programs!
Explore and enjoy the lessons, activities, webinars, podcasts and videos supporting the diverse topics offered at this year's 23rd Annual Barnegat Bay Environmental Educations Roundtable!
---
Dig IT! Soil Science:
Soil filters our water, provides essential nutrients to our forests and foods,
and helps regulate the Earth's temperature.
LEARN ABOUT THE POWER AND IMPORTANCE OF SOIL!
Soil Science PowerPoint:
MATES is a specialized high school in Ocean County developed around the marine and environmental science theme. MATES is geared toward students who wish to concentrate their studies in the areas of math and science. The mission of MATES is to provide an opportunity for students to evolve into critical thinkers, researchers, and problem solvers. Students of this academy will participate in an interactive, challenging and engaging curriculum with a focus on science, technology, engineering, arts, and mathematics.
Soil Science Lessons & Activities:
Soil Science Video:
A Year of Soil, Soil Science Society of America: The United Nations declared 2015 the International Year of Soils! As part of this global celebration and awareness campaign, the Soil Science Society of America developed a set of 12 videos, centered around SSSA's monthly communications themes. These videos include animations, are fun to watch and easy to understand.
Soil Science Webinar:
The New Jersey Pinelands Commission is an independent state agency whose mission is to "preserve, protect, and enhance the natural and cultural resources of the Pinelands National Reserve, and to encourage compatible economic and other human activities consistent with that purpose."
Public education and awareness is critical to the success of the Pinelands protection program. Visit the NJ Pinelands Commission's Educational Resources web page to find Pinelands related educational materials and resources, including the Pinelands Commission's On-line Curriculum Guides, Fun Facts and the Richard J. Sullivan Center for Environmental Policy and Education and Candace McKee Ashmun Pinelands Education Exhibit.
Pineland's Commission Soil Lessons and Activities:
Pinelands Soil, (grades 4-6)

New Jersey Pinelands Commission: This Pinelands soil unit consists of three lessons appropriate for upper elementary, consisting of: "Washing the Soil", "Pinelands Mudpies" and "Now You See It, Now You Don't".

Pinelands Soil, (grades 7-8)

New Jersey Pinelands Commission: This Pinelands soil unit consists of three lessons appropriate for middle grades, consisting of: "A Soil is Known by It's Profile", "Sand, the Dominant Ingredient" and "Sand Acts Like a Sieve".
---

Fire Ecology in the Pines: The Pine Barrens is a globally unique ecosystem.
Thousands of years of fire regimes within this sensitive area have shaped the landscape.
LEARN MORE ABOUT FIRE ECOLOGY IN THE PINES AND
DISCOVER THE UNIQUE ADAPTATIONS OF FIRE-DEPENDENT PLANTS IN THIS SPECIAL ECOSYSTEM.
Fire Ecology Videos:
Fire in the Pines, Pinelands Preservation Alliance:

Learn how fires have shaped the Pine Barrens ecosystem; watch a short video of a real-time fire burning through the pine forest (1 min 50 sec).

The Pine Barrens of New Jersey – Ecosystem, Pinelands Preservation Alliance:

video (3 min 35 sec) offers an overview of this unique ecosystem, including it's geophysical history, and the adaptations of the plants living in this harsh
Fire in the New Jersey Pine Barrens, Pinelands Preservation Alliance:

video (2 min 26 sec) describes how fire affects Pitch Pine trees, and how the fire resistant adaptations of the Pitch Pine has shaped the Pine Barrens

New Jersey Pinelands: Protecting a National Treasure, Pinelands Preservation Alliance:

(7 min, 52 sec) offers an overview of the New Jersey Pinelands, and discusses the importance of this ecosystem, and the need to protect it.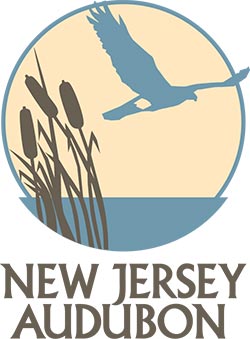 New Jersey Audubon fosters environmental awareness and a conservation ethic among New Jersey's citizens; protects New Jersey's birds, mammals, other animals, and plants, especially endangered and threatened species; and promotes preservation of New Jersey's valuable natural habitats. Staff within NJ Audubon's education department provide direct opportunities and experiences for children and adults to connect with nature with a goal of fostering a conservation ethic.
NJ Audubon's education department includes all center-based programs such as summer camps, nature-based workshops and classes, school and scout field trips, adult nature/bird walks and informal engagement with tens of thousands of visitors every year. It also includes programs conducted on a statewide basis including urban education and engagement, school sustainability and Eco-Travel.
Fire Ecology Lessons:
Fire Ecology in the Pines, NJ Audubon:

This lesson plan highlights the historic connections between natural and human communities and how these connections apply to the study of the watershed, using fire ecology in the Pines as an example. Key ideas explored: biotic community, abiotic environment, niche, interdependency.

Pinelands Fire (grades 4-6) New Jersey Pinelands Commission:

This Pinelands fire unit consists of four lessons appropriate for upper elementary, consisting of: "Feeding (or Starving) a Pinelands Fire", "Fire Beware!", "How to Succeed in the Pinelands", and "Forests, Fire and People".

Pinelands Fire (grades 7-8) New Jersey Pinelands Commission:

This Pinelands fire unit consists of three lessons appropriate for middle grades, consisting of: "Got a Match?", "Design for Disaster" and "Was Smokey Correct?".
---

Magnifying Plastics: Plastic is everywhere…
…polluting woodlands, beaches, rivers and oceans.
LEARN HOW YOU AND YOUR STUDENTS CAN TAKE ACTION.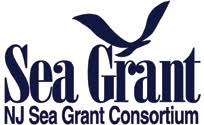 The mission of the NJ Sea Grant Consortium is to promote the wise use of New Jersey's marine and coastal resources through research, education and outreach.
Plastic Lesson:
Magnifying Plastics, NJ Sea Grant Consortium:

in this lesson, students will discover the basic elements of plastics including raw material sources, the various types of polymers, how they degrade into microplastics, and how these ubiquitous plastics enter and affect waterways and our oceans. Biomagnification exacerbates the marine impact of plastics. A variety of solutions are reviewed including engineering, education, behavioral and legislative.
Included in Save Coastal Wildlife's mission is to educate the public about their biotic coastal environment along the Jersey Shoreand to provide educational resources that promote stewardship and encourage a better appreciation of marine-estuarine biodiversity and ecosystems
Citizen Science Plastic Activity:
Save Coastal Wildlife conducts microplastics research along the Jersey Shore. Your students can participate in data collection and analysis, and help contribute to the solution of this massive global problem.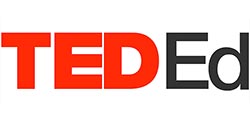 TED-Ed — TED's youth and education initiative — aims to spark and celebrate the ideas and knowledge-sharing of teachers and students around the world.
Everything TED-Ed does supports learning — whether its producing a growing video library of original animated lessons, providing an international platform for teachers to create their own interactive lesson plans, helping curious students around the globe bring TED to their schools and gain presentation literacy skills, or celebrating innovative leadership within TED-Ed's global network of over 250,000 teachers. TED-Ed has grown from an idea worth spreading into an award-winning education platform that serves millions of teachers and students around the world.
What Really Happens When You Throw Plastics Away, TED-Ed Talk video (4 min 6 sec) investigates the journeys of 3 plastic bottles, one that ends up in a landfill, one that ends up in the ocean, and one that is recycled. The above link takes you to the TED-Ed website, where you'll find an accompanying lesson plan and other related resources.


---
Did the Leni Lenape Use STEM?:
Explore how Native Americans used science, engineering and technology in their lives.
Leni Lenape Audio-enhanced PPT:
Did the Leni Lenape use STEM? Download the PowerPoint Presentation, narrated by Pat Heaney, Assistant Director of Education, The Watershed Institute.Pat will guide you through this lesson that combines social studies, science, engineering and technology. Students will learn how Native Americans used the engineering and design process to turn local natural resources into valuable tools and "technologies". (Grades 3-6)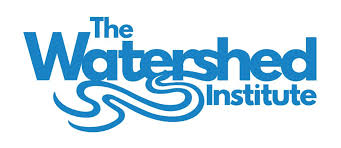 The Watershed Institute serves more than 10,000 children, teens and adults through more than 300 education programs and events each year. Their programs aim to build awareness of environmental issues, increase environmental literacy, inspire empathy for the natural world, and promote environmental stewardship.
Leni Lenape Lessons:
Did the Leni Lenape Use STEM?, The Watershed Institute:

Working in groups, students will learn the definition of technology, learn to use the engineering design process, and gain an understanding of Native American culture and how Native Americans incorporated science, engineering and technology in their daily lives.

Did the Leni Lenape Use STEM? Worksheet, The Watershed Institute:

This student worksheet accompanies the lesson above.

Native American Lifestyles, The Watershed Institute: – Modified "At Home" Lesson

This modification offers both teachers and caregivers the background knowledge and resources to teach children about what life was like for the Native Americans living along the east coast of America hundreds of years ago. Explore the activities with your children or students. The last page provides an answer key.
---

Have Seeds, Will Travel:
All living things have systems for reproducing.
LEARN HOW PLANTS REPRODUCE, DISPERSE SEEDS, SURVIVE AND THRIVE!
Seeds Video:
---
History of Double Trouble Village
in Double Trouble State Park, NJ
Double Trouble State Park offers an outstanding example of the Pine Barrens ecosystem and a window into the Pine Barrens history. The park provides the protection and interpretation of over 8000 acres of significant natural, cultural, and recreational resources representative of the Pinelands National Reserve.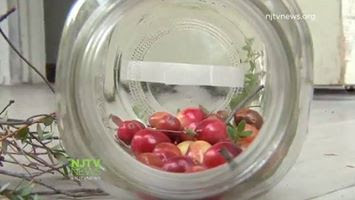 Cranberry Video:
History of Double Trouble Village, NJ Department of Parks & Recreation: Double Trouble Village in Ocean County was once a working saw mill and commercial cranberry farm. The State of New Jersey acquired the property in 1964, in part to protect the Cedar Creek and Barnegat Bay Watersheds.
Today, the historic village is available for guided tours and passive recreation with miles of marked trails. Enjoy this 2 minute NJTV feature video as Park Historian, Andrew Anderson, talks about the history of Double Trouble Village. Visit njparksandforests.org and for more information.
Activities:
Have some fun with these Word Search games that highlight the history and natural resources that define Double Trouble State Park:
---
Pinelands Nursery and Pinelands Direct
Pioneers in growing and selling NJ native plants.
PURCHASE NATIVE PLANTS
Pinelands Direct has brought their high quality native plants to sell at our Environmental Educators Roundtable for many years.
You can continue to make purchases and support one of New Jersey's finest native plant nurseries through online ordering. For all questions or special inquiries please send Pinelands Direct a message on Facebook or email sales@pinelandsdirect.com.
Your plants will arrive at your home just in time for spring planting! Native plants support wildlife, including birds, butterflies, bees and other beneficials. Flowering perennials, ground covers, trees, shrubs, grasses and ferns – they have something for everyone!
Tom Knezick, Proprietor of Pinelands Direct
Native Plants Healthy Planet" Podcast:
Listen weekly as Pinelands Nursery Sales Manager Fran Chismar, and Production Analyst Tom Kinezick, share information about native plants and gardening tips, and talk with special guests on an array of topics. Episode 5 features Karen Walzer of Barnegat Bay Partnership and Becky Laboy of Ocean County Soil Conservation District, as they discuss Jersey-Friendly Yards!