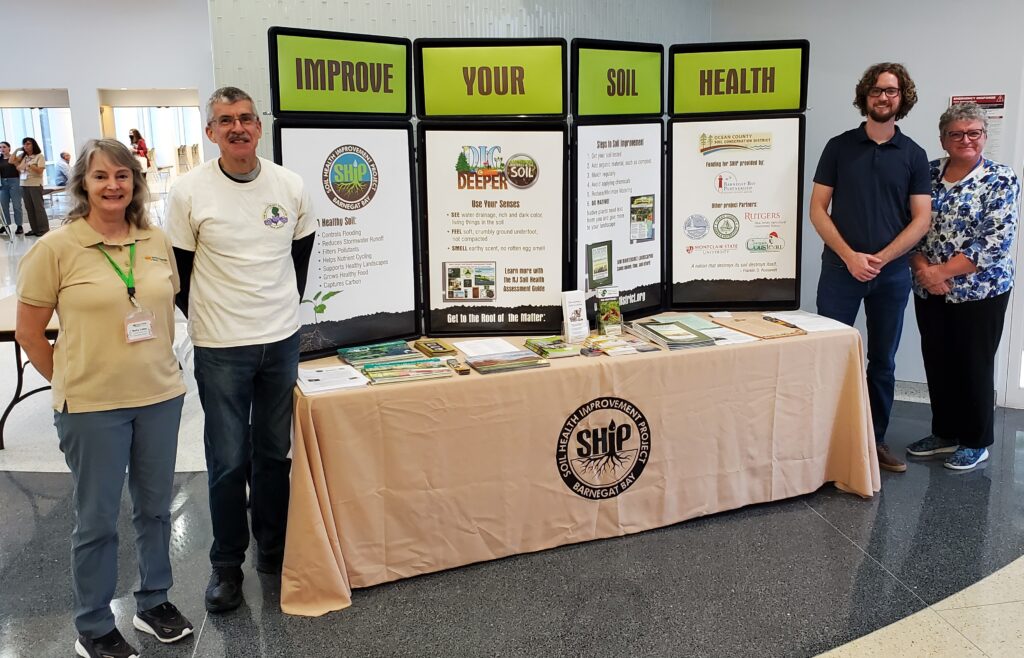 Ocean County Soil Conservation District is a proud partner of the Jersey-Friendly Yards initiative. The 2023 Jersey-Friendly Yards Conference was held over the weekend, on Saturday, September 30th. It was a great success! Two amazing presenters, Dr. Chris Obrupta, Rutgers Cooperative Extension Specialist in Water Resources, and Christopher Miller, USDA-NRCS Plant Center Manager/Conservation Agronomist shared information about resilient landscaping practices to combat the challenges of our changing climate. Dr. Obrupta offered specifications, designs and examples of rain gardens, successfully implemented throughout New Jersey – an important tool for capturing roof and lawn stormwater runoff, and redirecting it into the soil where is can be cleaned, recharge our base soil water, and percolate into our groundwater aquifers. Christopher Miller provided lists of climate-resilient trees, shrubs, and forbs and grasses, appropriate for New Jersey yards, gardens and landscapes. (Scroll below to see the plant lists.)
The recent record rainfall we all experienced in September was a reminder of how we need to create a healthy foundation of soil that can absorb excess rain water, and plant native species that can also withstand long periods of heat and drought. Participants were able to get a jump-start on their climate-resilient gardens by choosing from an array of plants and seeds at the native plant sale. Three New Jersey vendors sold native stock at the JFY Conference: Toadshade Wildflower Farm, Earth First Native Plant Nursery and Gifts, and Steven Kristoph Nursery.
The goal of Jersey-Friendly Yards is clean water in our state for drinking, swimming, fishing, and wildlife and a healthier environment for everyone. The Barnegat Bay Partnership (BBP) spearheads the Jersey-Friendly Yards initiative with funding from the U.S. Environmental Protection Agency (EPA) and the New Jersey Department of Environmental Protection (NJDEP). BBP is the National Estuary Program for the Barnegat Bay. More than 30 partners – government agencies, academic institutions, businesses, non-profit organizations, and citizen groups – are all working together for cleaner water and a healthier ecosystem in the bay. Additional support for the program comes from Ocean County College and the Ocean County Board of Chosen Freeholders. The Barnegat Bay Partnership (BBP), Ocean County Soil Conservation District and Rutgers Cooperative Extension of Ocean County are proud to bring you the Jersey-Friendly Yards Conference and many other educational programs that teach how you can make your yard more Jersey-Friendly! Visit the Jersey-Friendly Yards website to find comprehensive resources and tools about landscaping for a healthy yard and healthy environment in New Jersey.
Climate Resilient Native Plants:
Compiled by Christopher Miller, USDA-NRCS Plant Center Manager/Conservation Agronomist.