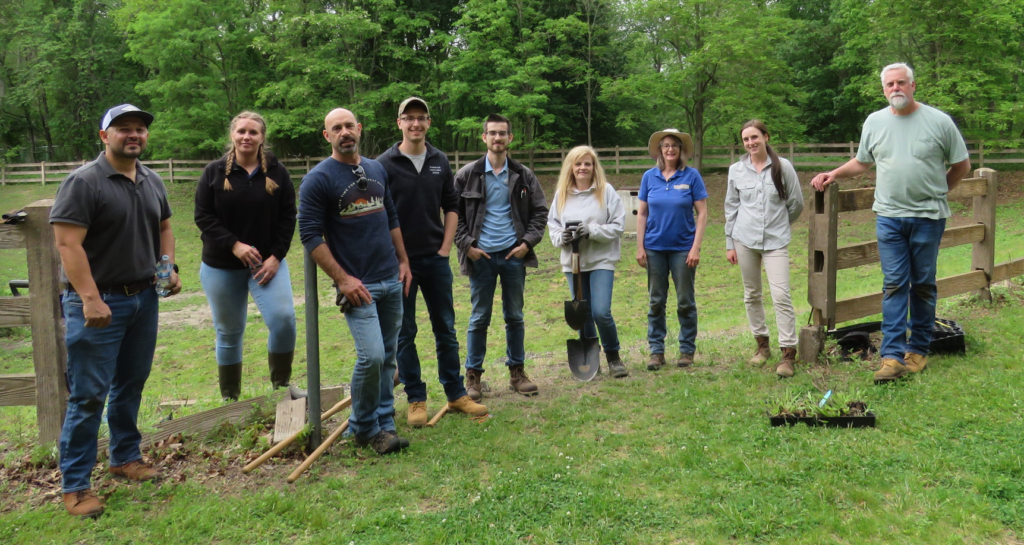 This spring, Ocean County Soil Conservation District staff assisted with the implementation of an additional stormwater basin retrofit in Lakewood Township, New Jersey. The selected stormwater basin, at the cul-de-sac of Shemen Street, manages 7.68 acres of a residential development area and discharges to a designated wetland area of the Cabinfield Branch of the Metedeconk River. Participants from OCSCD, the South Jersey Resource Conservation & Development Council, Camden County Soil Conservation District, and Freehold Soil Conservation District spent the day planting approximately 1200 native landscape plugs supplied by Pinelands Nursery.
Landscape plugs are small-sized seedlings grown in seed trays filled with potting soil which allows the roots to rapidly establish themselves. Landscape plugs are much more resistant to drought and other stress compared to conventional seeding methods.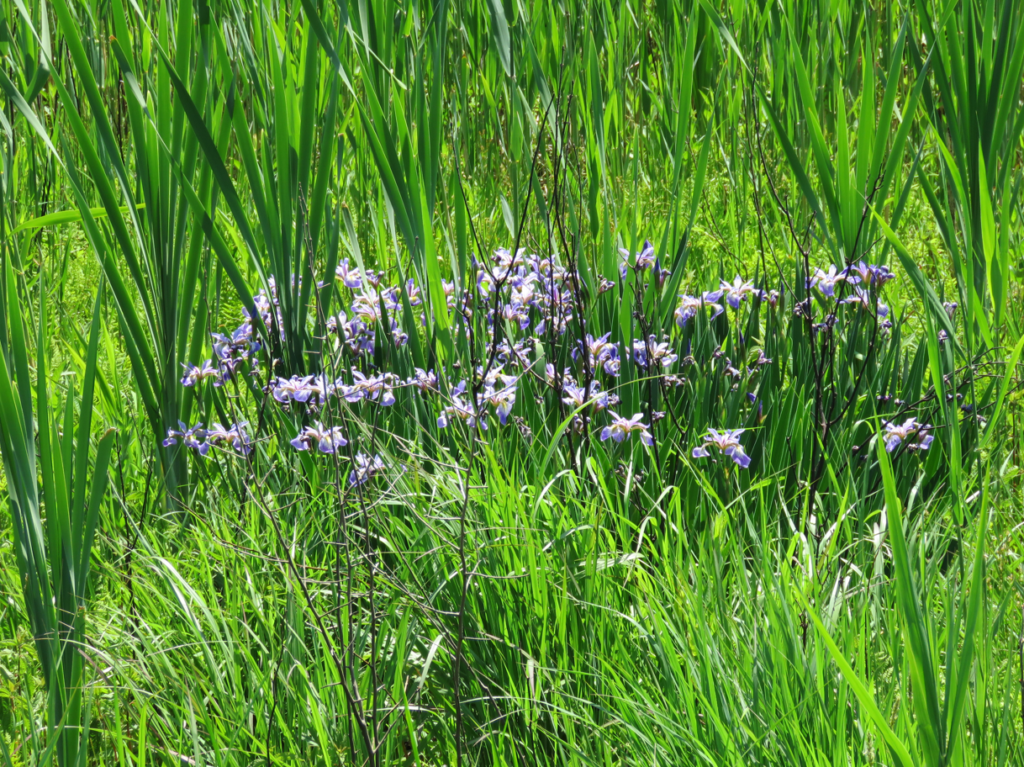 The installation of native plants into the existing monoculture turfgrass basin bottom will improve downstream water quality, provide wildlife habitat and reduce soil erosion and sedimentation by providing deeper root systems which are better suited to stabilize soil, and infiltrate and filter stormwater runoff compared to the previous turfgrass stand. Species implemented in the planting include Swamp Milkweed, Broom Sedge, Riverbank Wild Rye, Boneset, Swamp Sunflower, Blue Flag Iris, Blue Lobelia, Cutleaf Coneflower, Seaside Goldenrod, Salt Meadow Cordgrass, Smooth Aster, New York Ironweed and Big Bluestem.
These flowering perennials, sedges and grasses also provide beauty to the basin and the neighborhood. Since native plants evolved locally, they are well-suited to thrive in the climate of the project area, are resistant to common pests and pathogens, and require little to no maintenance.
Funding for the Lakewood Township Stormwater Basin Retrofit Project is provided through a Watershed Restoration grant from the New Jersey Department of Environmental Protection (Grant # WM20-008) granted to the South Jersey Resource Conservation & Development Council, in partnership with Ocean County Soil Conservation District, Camden County Soil Conservation District, and Lakewood Township Department of Public Works. Learn more about this ongoing project!