Last month, Ocean County Soil Conservation District staff, including Jessica Pinto, Kristin Adams, Sean Yeats and Rachel Hammack, participated in marsh grass plantings as part of a living shoreline restoration project installation at the Lighthouse Center (LHC) for Natural Resource Education of New Jersey, located in Waretown. The LHC is an environmental education and research center located in Ocean Township, Ocean County, and is situated on one of the last undeveloped bay front tracts in Barnegat Bay. Through a lease agreement with the NJDEP's Division of Fish and Wildlife, the LHC is operated by the Natural Resource Education Foundation of New Jersey (NREFNJ), a non-profit 501(c)(3) corporation.
NREFNJ received funding from The Nature Conservancy (TNC) for the design phase and then subsequently, the permitting stage. Implementation of Phase 1 of the living shoreline restoration design was funded through the 319h Program (funding from the Clean Water Act) administered by the NJDEP. The project is titled: Lighthouse Center Enhancement & Rejuvenation Program: Phase 1 Shoreline Stabilization and Rejuvenation Grantee: Natural Resource Education Foundation of New Jersey Funding amount: $300,000.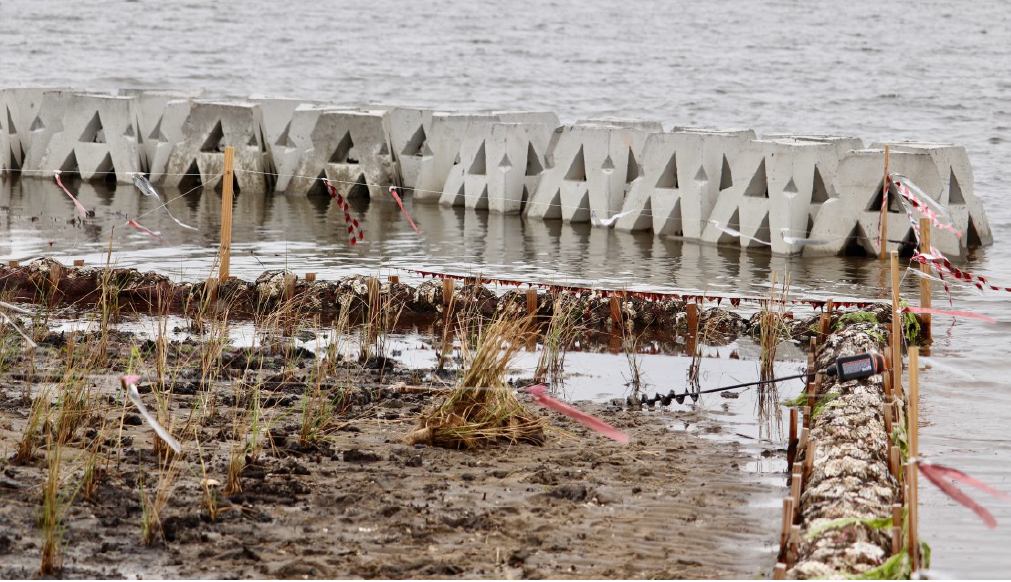 The living shoreline restoration project installed at the Lighthouse Center was created using a hybrid living shoreline approach, which represent a nature-based solution to protect, stabilize, and provide resilience to the coastline. The first step in the process was to install the initial shell bag toe, planting protection, and end plugs of an unwanted man-made ditch. Second, Wave Attenuation Devices (WADs) were trucked in from Mississippi and arranged strategically to dissipate (or dampen) oncoming wave energy to stop nearshore erosion and restore the shoreline. Third, sand was brought in to complete the ditch plug. Fourth, goose deterrent fencing was installed in preparation of the plantings. Fifth, approximately 7,000 plants were installed; Spartina patens, or saltmeadow cordgrass, also referred to as salt hay, was used to create high marsh habitat and Spartina alterniflora, or smooth cordgrass, was used to create low marsh habitat. Click to download a pdf copy of the Lighthouse Center Living Shoreline Project article.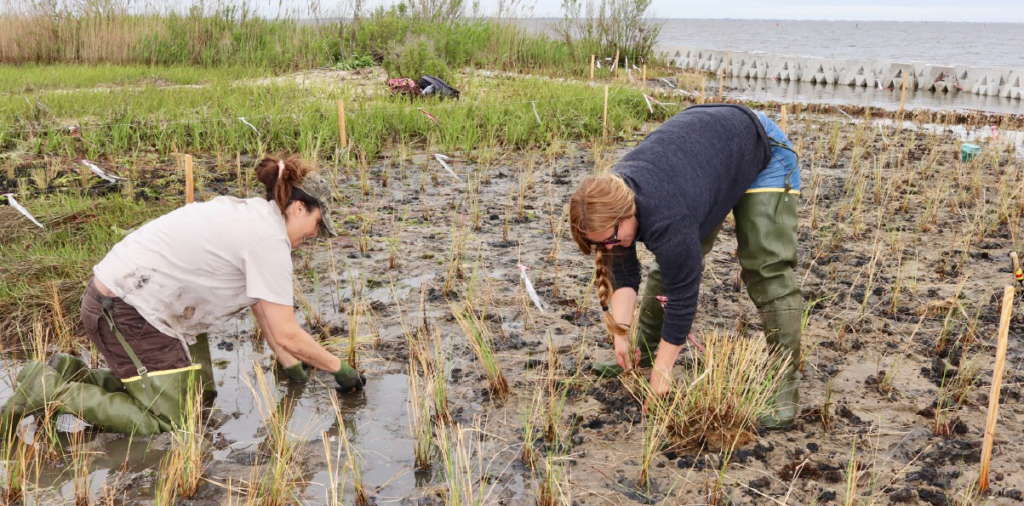 (Text by Kristin Adams, PSM, Ocean County Soil Conservation District, with assistance from Douglas Janiec, Sovereign Consulting, Inc.)