Congratulations to our hometown team, MATES – Marine Academy of Technology and Environmental Science, for winning First Place at the New Jersey Envirothon on May 20. Although it was a wet and soggy Saturday for all the teams who competed this year, everyone agreed that it was great to be back "in person" after competing virtually for the past few years.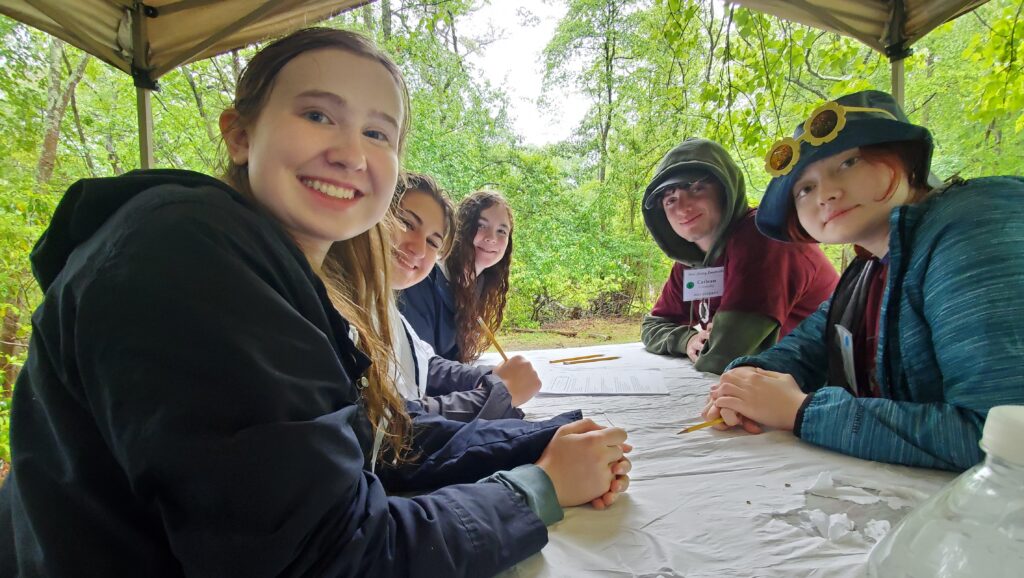 The 2023 NJ Envirothon took place at YMCA Camp Zehnder in Wall Township, Monmouth County. Fourteen High Schools from across the state convened together in teams of five, putting their environmental knowledge to the test in areas of aquatic ecology, forestry, soils, wildlife and current environmental issues. The 2023 current environmental issue was "Adapting to a Changing Climate". The competition incorporates STEM principles (science, technology, engineering and math), experiential learning and hands-on outdoor field experiences.
OCSCD works together with our 14 sister Soil Conservation Districts throughout New Jersey to help facilitate the event. This year, Freehold Soil Conservation District took the lead in organizing the NJ Envirothon in collaboration with the New Jersey Association of Conservation Districts (NJACD).
The Envirothon is a national program managed and directed by the National Conservation Foundation and its NCF-Envirothon Operating Committee. Teams first compete at the state level, then the winning team moves on to represent New Jersey at the national level, competing against winners from participating states, as well as teams from Canada and China. The Envirothon is North America's largest high school environmental education competition. The MATES Team will be competing at the national Envirothon in New Brunswick, Canada, in July.