The allure of the Jersey Shore is not limited to sandy beaches and ocean waves. The back bay area is a playground for kayakers, clammers, boaters and birders, and offers myriad opportunities to explore and enjoy the salt life. Dotted within the bay, between the barrier islands and the mainland, there exists a patchwork of marsh muck and salt hay just visible above the water – the bay islands. Stitched together by plant roots and mussel shells, the bay islands play a critical role in maintaining the integrity of the coastal ecosystem of New Jersey for both people and wildlife. Bay islands provide numerous benefits including carbon sequestration and nutrient cycling, as well as reduced impacts of wave action and absorption of flood waters before they reach the mainland and barrier islands where people live and work.
Bay Islands provide key habitat for an abundance of breeding bird species including endangered salt marsh sparrows and yellow-crowned night herons, as well as egrets, ibis, terns, rails and oystercatchers.
In August, migratory shorebirds flock to bay islands to feed and fuel-up for their long-distance journey south. Short-billed dowitchers, ruddy turnstones, sanderlings, semipalmated sandpipers, black-bellied plovers and others voraciously probe the sandy substrate as they forage for crustaceans, mollusks, aquatic worms and other nutritious aquatic prey.
In colder seasons, bay islands provide habitat for wintering waterfowl and are used by harbor seals in search of respite, where they haul out and nap in the winter sun. Bay islands and the sea grass beds growing around them are home to many fish and shellfish that support a thriving New Jersey industry.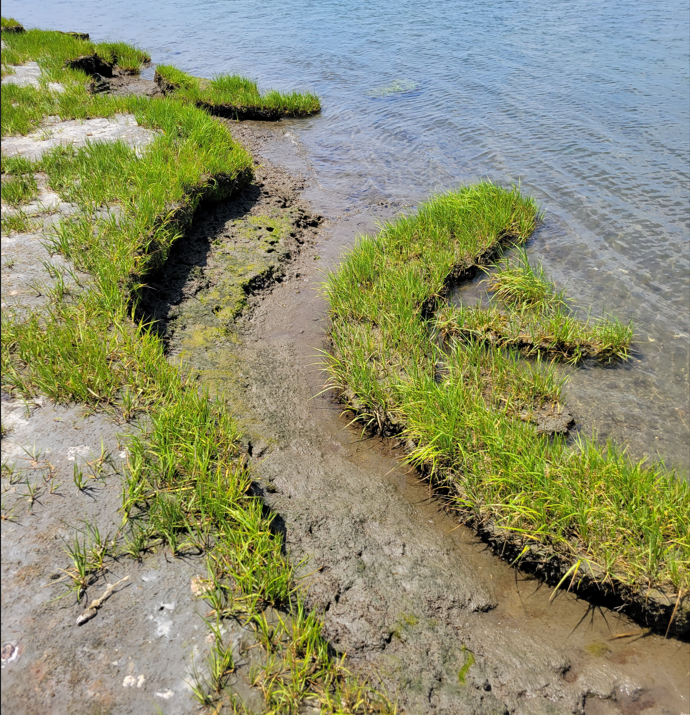 Over the past decade, studies completed by the Barnegat Bay Partnership and other academia have indicated that many of our bay islands are succumbing to recreational boater activity, intensified storms and sea level rise, resulting in degradation and abatement of these important natural structures. These erosive forces compromise the integrity of bay islands, which drastically affects the health and resiliency of the entire bayshore ecosystem.
The contributions to community resilence and storm surge protection offered by bay islands is essential. Witnessing the loss, in 2020, local community members, organizations and agencies across the region took action and formed the New Jersey Bay Island Initiative (NJBII). The goal of NJBII is to protect, restore and enhance the bay islands' ecological functionality through an "islands system" management approach. Virginia Rettig, Manager of the Edwin B. Forsythe National Wildlife Refuge and Angela Andersen, Sustainability Director for Long Beach Township, are spearheading the New Jersey Bay Islands Initiative (NJBII).
Over the past two years, NJBII has grown to include more than twenty organizations, agencies, non-profits and concerned citizens dedicated to the protection, conservation and stewardship of bay islands from the Metedeconk River in the north, to the Absecon Inlet in the south. Ocean County Soil Conservation District is proud to be counted among the partnership.
Under the direction of District Director, Christine Raabe, two OCSCD staff are contributing time and expertise on the NJBII project: Becky Laboy, M.Ed., Education Outreach Specialist, participates on the Communications team, and Kristin Adams, PSM, Erosion Control Specialist, is providing her expertise on aquaculture.
Project Updates
Members of the New Jersey Bay Islands Initiative (NJBII) embarked on an educational field trip to assess the erosion at Clam Cove.

Bay islands provide numerous benefits to people and wildlife. Members of NJBII gathered for a field trip to visit a few bay islands and scope possible sites for future habitat enhancement and restoration projects.