The USDA Natural Resources Conservation Service (NRCS) Soil and Plant Science Division is responsible for surveying, mapping and interpreting soils throughout the entire country. The Coastal Zone Soil Survey (CZSS) Team focuses its efforts on improving the soil survey along the coastal zone from New England to the Gulf Coast of Texas. This includes the dunes, marshes, beaches, and shallow sub-tidal soils in coastal lagoons, bays, and inlets.
Based out of Hammonton, New Jersey, MLRA (Major Land Resource Area) Soil Scientist, David Steinmann is part of this team of soil scientists that works primarily in the coastal zone areas throughout New Jersey, Maryland, and Delaware. This past month, Kristin joined NRCS Scientist, David Steinmann in the field to learn how subaqueous soil properties can help determine the best locations for aquaculture in the Barnegat and Great Bays.
A subaqueous soil sample from Great Bay is split open for analysis on the boat Steinmann uses two main methods when taking samples of subaqueous soil (soil that is submerged) or better known as the "bottom of the bay". The McCauley auger method is used in softer, finer textured soils that have more silt and organic matter, allowing for easier penetration with manpower. The auger is pushed into the soil for a 2-meter sample, and then split open for analysis on the boat. The other method is a vibracore, which uses a gas engine to help retrieve a sample, and is brought back to the lab for analysis at a later date.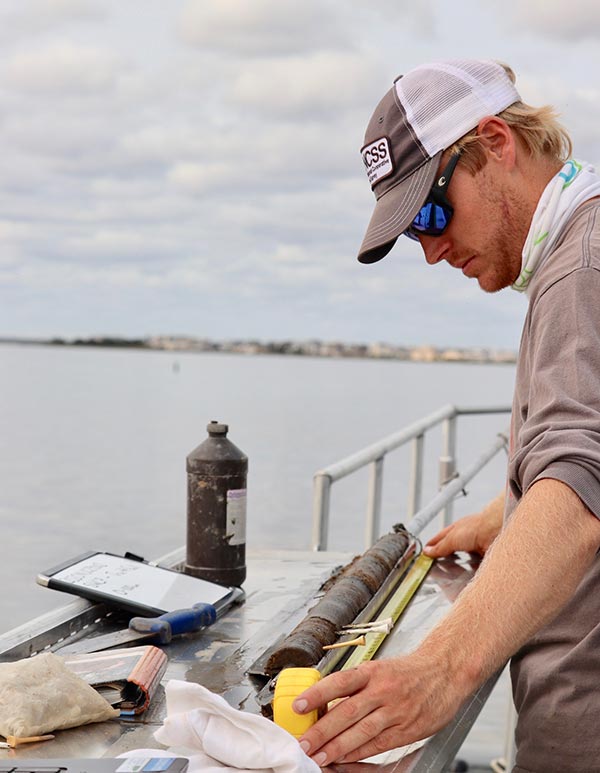 While on site, collection of site data including bottom type, presence of SAV (submerged aquatic vegetation), latitude/longitude and water quality are completed. Collectively, this data is used to map and classify the soil series throughout the coastal zone, similar to terrestrial soil mapping. Each soil series and mapping unit contains its own set of information, and once interpreted is available for viewing on Web Soil Survey.
New Coastal Zone interpretations available on Web Soil Survey include suitability for Eastern Oyster Habitat Restoration, Eelgrass Restoration, Hard Clam Habitat, and Land Utilization of Dredged Materials, with many more coming soon. The USDA, USEPA, USACOE, NJDEP, Rutgers University, Stockton University and other agencies use this information for a variety of purposes from permitting aquaculture, planning research and restoration efforts, dredging projects and more.